PERCEPTIONS OF
JESUS CHRIST
According to one online article, "Perceptions vary from person to person. Different people perceive different things about the same situation. But more than that, we assign different meanings to what we perceive."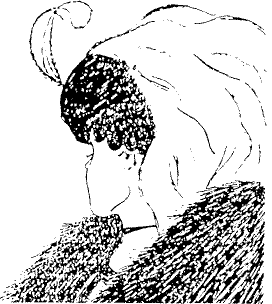 This is a famous picture. What does it look like to you?
Some people see a young lady looking away. Others see an old lady looking down. Depending on how you look at it, part of the picture might be the young woman's nose and eyelash, or it might be a wart on the old woman's nose. What is the young woman's ear might be the old woman's eye. What is the young woman's necklace might be the old woman's mouth. The picture hasn't really changed. You just emphasize different parts of it and assign them different meaning."
According to another online writer, "The word 'perception' comes from the Latin words perceptio, percipio, and means "receiving, collecting, and action of taking possession, apprehension with the mind or senses. What one perceives is a result of interplays between past experiences, including one's culture, and the interpretation of the perceived.
In the case of visual perception, some people can actually see the percept shift in their mind's eye. Others, who are not picture thinkers, may not necessarily perceive the 'shape-shifting' as their world changes. The question, "Is the glass half empty or half full?" serves to demonstrate the way an object can be perceived in different ways. Just as one object can give rise to multiple percepts, another object may fail to give rise to any percept at all: if the percept has no grounding in a person's experience, the person may literally not perceive it.
Preconceptions can influence how the world is perceived. The processes of perception routinely alter what humans see. When people view something with a preconceived concept about it, they tend to take those concepts and see them whether or not they are there. This problem stems from the fact that humans are unable to understand new information, without the inherent bias of their previous knowledge. A person's knowledge creates his or her reality as much as the truth, because the human mind can only contemplate that to which it has been exposed. When objects are viewed without understanding, the mind will try to reach for something that it already recognizes, in order to process what it is viewing. That which most closely relates to the unfamiliar from our past experiences, makes up what we see when we look at things that we don't comprehend.
We obtain information from the external world, from our senses: taste, hearing, smell, touch, sight. Then we somehow integrate and analyze perceived information and make our decision. Decision is an "outcome of mental processes (cognitive process) leading to the selection of a course of action among several alternatives. Every decision making process produces a final choice. How do we make a decision, or even better to ask what leads us to make a decision?"
The picture to the right is suppose to show how the kitten perceives itself. However, using this same picture, I would like to propose a few questions to you. How do you perceive Christ Jesus? Do you perceive Him as a meek, gentle, soft and cuddly kitten or as the Lion of the tribe of Judah (Revelation 5:4)? Can you distinquish between the meek savior who came and the strong and all powerful King of kings and Lord of lords who is coming again to rule the nations with a rod of iron (Revelation 19:11-16)? How do you really perceive Jesus Christ?